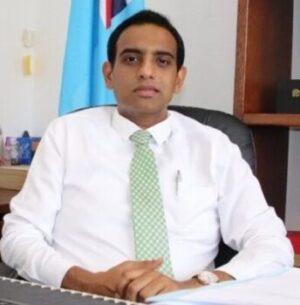 Welcome to the Ministry of Waterways and Environment!
As you navigate our website, it is my hope that you will come to know more about us and the characteristics that make our Ministry a truly unique and an outstanding provider of waterways services and environmental protection services and of course a wonderful space to build your knowledge and support around economic, educational, and career services
We strive to offer service with excellence.
We have earned the trust and respect from people who interact with us for one simple reason—we have great people. They are experts and specialists in their respective fields. They bring strong service ethos to everything they do – which is intertwined with nearly 400 years of (combined) experience. They exude pride and a spirit of ownership in the jobs they undertake. They blend passion, and experience to offer service excellence.
We lead the pack.
Frequent flood episodes caused by extreme weather conditions have resulted in considerable economic and social losses for Fiji in recent years. Housing and infrastructure found in the lowland areas are prone to inundation; Our Ministry focuses on the measures and solutions for flood mitigation through engineering aspects and public participation – helping us lead flood management approaches for Fiji.
Leadership through the management of waterways has been central to the development efforts of any nation – Fiji is no different. Adequate drain maintenance is improving the public experience in several ways: reduced public health risks, effective property protection, increased agricultural yield, reduced yield variability, reduced surface runoff and erosion, and the general increase in land value. Improved agricultural drainage support provided by the ministry improves farm drains for better trafficability, enhancing timely planting and harvesting operations. Our leadership in this area helps decrease crop damage from saturated soil and standing water during the growing season.
Polluted stormwater contaminates local waterways. It can harm our plants, fish, and wildlife while degrading the quality of our waters and our environment
Environmental Protection, conservation, and sustainable development are like the air we breathe. We extend this into the way we think and act. We have earned a reputation for helping our stakeholders transform the way in which environmental protection services are viewed. The programs we support are critical to keeping Fiji's pristine environment secure, and productive.
From modernizing litter/prevention/pollution/waste strategies to protecting Fiji's endangered species the Department of Environment is earning a reputation for delivering on programs that truly make a huge difference.
We are truly proud to be a part of the Global action taken under the Montreal Protocol that has halted the depletion of the earth's ozone layer and allowed it to start recovering. Much remains to be done to ensure a steady recovery – please browse through our pages to find valuable information on the training offered to the refrigeration and air-conditioning industry and the relevant agencies.
We have a "citizen first" philosophy.
We focus on objectives that ensure your objectives are met with the highest level of capability and assurance, and at the lowest possible cost to the taxpayer. Of course, all this needs to be done within the framework of the law. Our Standard Operating Procedures ensure that vital public programs are delivered on schedule. We endeavor to instill confidence based on the expertise we possess to take service delivery to the next level of performance.
We are determined to provide the best.
We have worked through some of the most demanding service requirements within the public service, and our national presence means that we can support our clients wherever their needs require. The ministry is able to draw upon the accumulated knowledge of an organization that keeps raising its standards of excellence to provide you with that leading edge.
Our values direct us.
Our work culture is defined by a simple set of values that dictate how we operate every day of our work lives – Reliability, Care, Innovation, and efficiency. They are mirrored through our interaction with each other, our stakeholders, including our communities. We hold each other accountable for creating an organization that we can all be proud of.
It is my sincere hope that this provides you with a few compelling reasons to get to know us better. Whether you are a potential applicant, promoter, developer, farmer, a contractor, or a future employee, we look forward to finding out how we can work together to bring meaningful waterways and environmental service solutions.
Joshua Wycliffe
Permanent Secretary and Chief Executive Officer
Ministry of Waterways and Environment