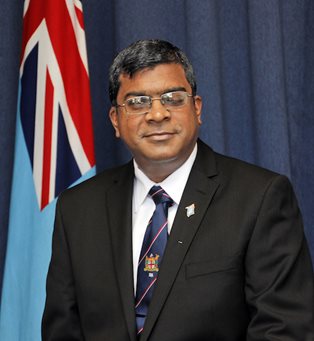 Bula Vinaka! Namaste! Welcome to the website of the Ministry of Waterways & Environment.
In our effort to further our services to our customers, the Ministry of Waterways and Environment has launched its official website as an interactive channel to bring citizens closer to the important and multifaceted work undertaken by our Ministry. We believe that through this website we can expand our services and communicate more effectively, create a platform that allows the contribution of your ideas and suggestions for an improved, more public-friendly and efficient function of our Ministry.
We have aimed to rescue our web-coverage from being mundane, predictable, demoralizing, or boring. We have taken an informed, intelligent approach to the waterways and environment. We would like the content in here that would instigate creative debate for Fiji. We will endeavour to not provide "good old" eco stories or charades but ensure positive information that would be constructive even if with if reasonably acerbic that is more of a gawker sort than yet another happy-clappy web instrument.
Here, you will find information on our key activities which include environmental sustainability and management, litter prevention, provision of adequate drainage, flood mitigation and protection, smart agricultural irrigation solutions, waterway dredging & river embankment and coastal management activities. Our actions are directional, towards a more viable future for Waterways and Environment management in Fiji. Waterways and Environment are intrinsically linked and are integral to our well-being. Waterways and Environment sustain life, including human life and the health of our ecosystems and the services provided by them. Our national economy depends on it and as such, its proper management is of a high priority.
The Ministry of Waterways was established in 2017 and was merged into the Ministry of Waterways and Environment, with Environment coming on board following the budget announcement (2018-19). This merger reflects the significance of Waterways and Environment management. This merger transaction seeks to ensure Fiji's development does not come at the cost of the natural environment and to strengthen the water resource management sector in Fiji.
The Ministry aims for concerted and continuous effort to strengthen the water resources and environmental management sector in Fiji by;
A long-term, integrated approach to policy planning and implementation
Collaborative multi-stakeholder Partnerships, and
Balancing environmental considerations with economic development, believing that the two are complementary, not contradictory.
As, we live in hard times, where our society is under trial by the negative consequences of climate change and economic crisis. The Ministry is determined to move forward through dialogue, transparency, honesty, and integrity, in order to overcome the obstacles of climate change and to offer Fijians, the future that they rightly deserve.
This website contents are structured to meet your specific information on the Ministry and its various programs to achieve its goals towards a sustainable environment.
Happy browsing!